Omega Seamaster Aqua Terra (250X.XX series)
The Omega Seamaster Aqua Terra (AT) is a fantastic watch that is very versatile and is a strong candidate for your one watch collection. It was released in 2003, sporting the first co-axial movement developed by Omega: the Omega 2500.
This first AT model got discontinued in 2010, it was available in 3 sizes:
42.0mm (2502.XX)
39.5mm (2503.XX)
36.0mm (2504.XX)
Ref: 2504.30, 2504.50, 2504.70, 2504.80
Diameter: 36.00 mm
Thickness: 11.00 mm
Lug width: 19.00 mm
Caliber: Omega 2500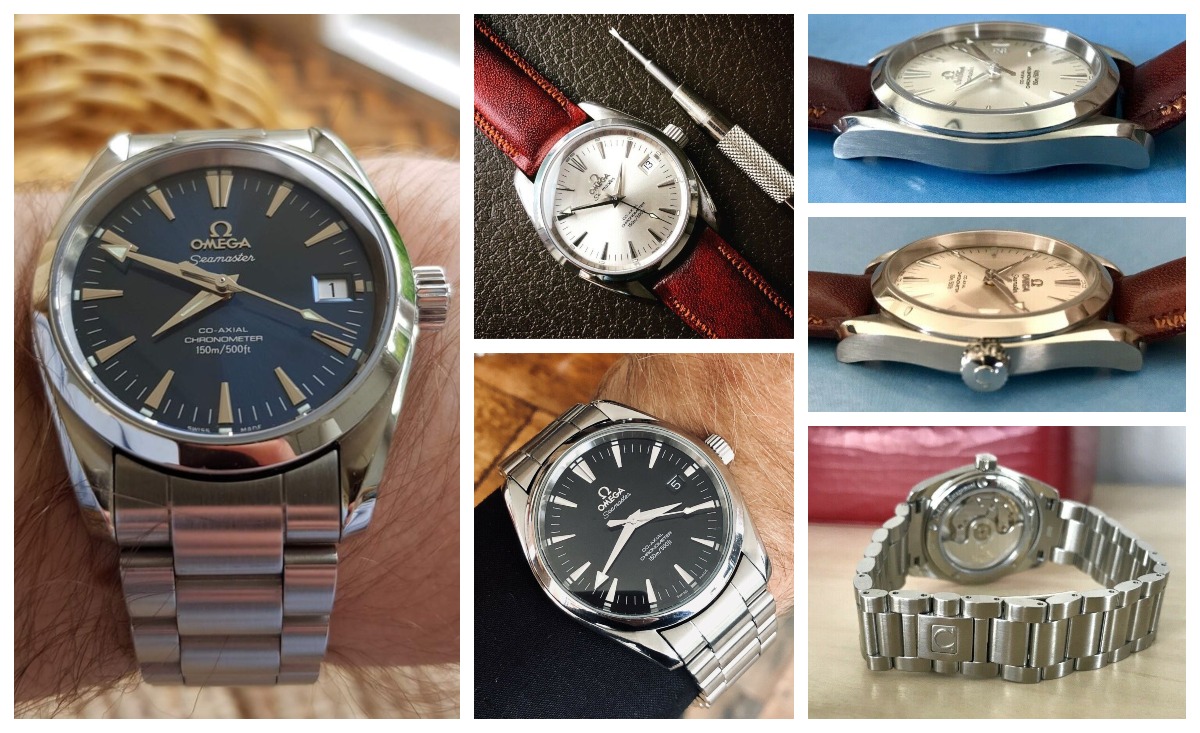 The lugs on those models are quite long, so the watch wears bigger than its diameter suggests. We find that the 36mm model in black (2504.50) is a great Rolex Explorer alternative.
The dial colors available for this timepiece are:
Black (250X.50)
Blue sunburst (250X.80)
Silver sunburst (250X.30)
Mother of pearl with blue markers and hands (250X.33)
Silver with gold markers and hands (250X.34)
Red (250X.60)
Ref: 2503.30, 2503.50, 2503.70, 2503.80
Diameter: 39.50 mm
Thickness: 11.50 mm
Lug width: 20.00 mm
Caliber: Omega 2500
No matter what the size is, the layout of the dial is the same. You will find a date window at 3 o'clock, along with a shortened hour marker.
The size of this marker will vary depending on the size of the watch: it is a good way to check out what the diameter is when you are looking at the pictures.
As mentioned earlier, the first AT models sport the Omega 2500 co-axial movement, which was first based on an ETA 2892 (before 2003) and Frederique Piguet (after 2003) movement to which a 2 level co-axial escapement was added. This movement is relatively thin, allowing the first AT models to be worn comfortably with a thickness of 11mm.
Ref: 2502.30, 2502.50, 2502.70, 2502.80
Diameter: 42.20 mm
Thickness: 11.60 mm
Lug width: 20.00 mm
Caliber: Omega 2500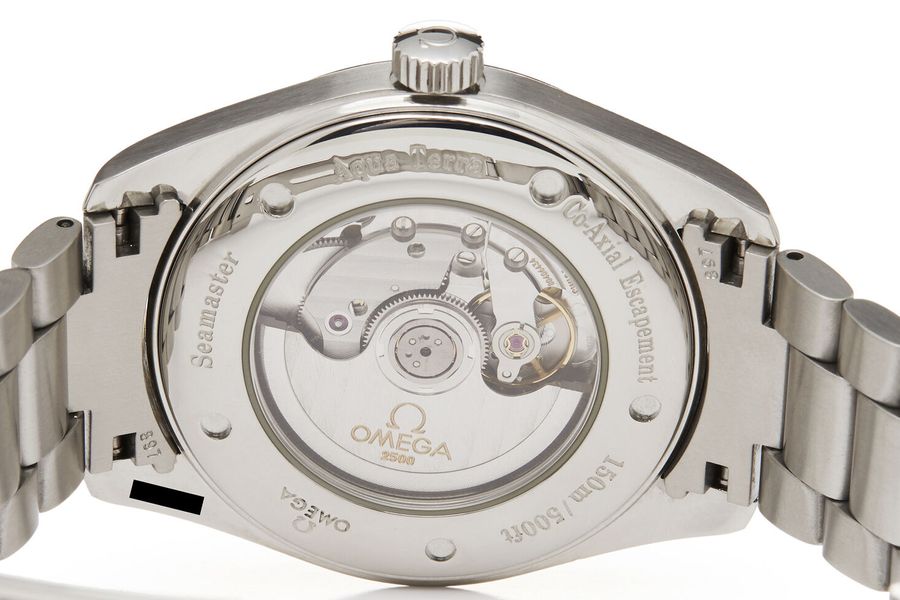 Omega changed the 2500 caliber 4 times, through revisions A, B, C and D. The revisions A and B beat at 28,800vph whereas at C and D have an oscillation frequency of 25,200vph. The latter frequency is closer to what George Daniels envisaged in his co-axial movement.
The 2500D revision was released in 2011 and is therefore not equipping any Omega AT models since they were discontinued in 2010. The 2500D is however present in Omega Planet Ocean (PO) and DeVille models with serial numbers above 8525XXXX.
Here are 8 suggestions on eBay for the Omega Seamaster Aqua Terra (250X.XX series):
(scroll horizontally for more )
---
Join us!
Be part of the conversation