Seiko 6138 vintage chronograph
The Seiko 6138 series are automatic chronographs produced in the early 1970s. In the 1970s, a lot of the chronographs produced were around the theme of motorsports and featured very colorful dials as well as very audacious case designs. Those very funky designs are very much sought after by collectors, and Seiko's vintage chronographs are no exception.
In that era, Seiko released the 6138 and 6139 series, as a set of very cool looking automatic chronographs, including the legendary models "Pogue", "Bullhead", "Panda" and "Kakume".
The vintage Seiko chronographs offer amazing value and are amazing vintage collection starters. A lot of them can be acquired under $500 on eBay, however, prices have been rising over the last few years, as more people are getting aware of them.
Ref: Seiko 6138-802X "Panda", "Baby Panda" 6138-800X
Diameter: 40.00 mm
Thickness: 13.50 mm
Lug width: 19.00 mm
Caliber: Seiko 6138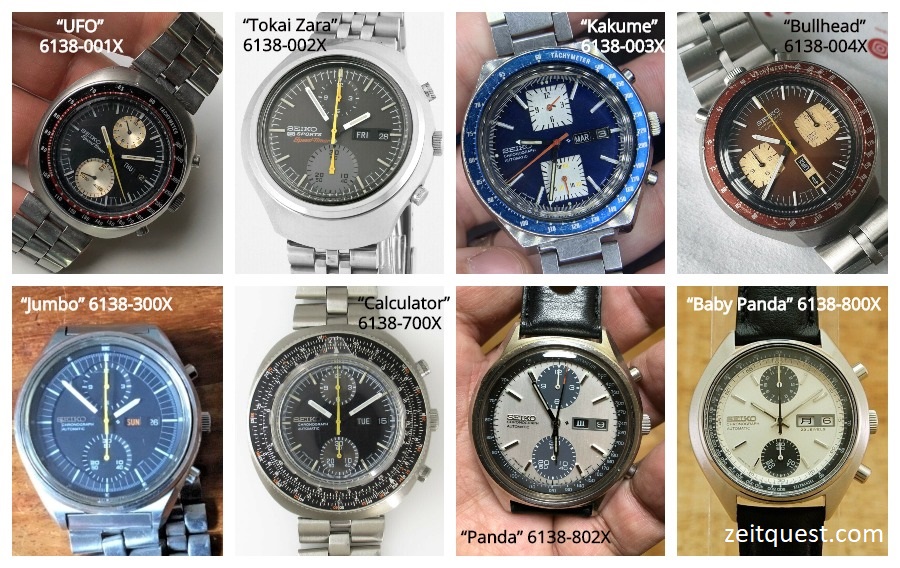 The Seiko 6138 movement equips those chronographs, it is available in versions A and B. It is the first automatic chronograph that provides 2 registers with a column wheel and a vertical clutch. The 6138A/B have automatic and hand-winding capabilities, as well as a quickset day/date function. At the time of its development, this was pretty amazing: it provided more functionality than its Swiss competitors: Breitling, Heuer, and Zenith! Moreover, as you would expect from Seiko, every component of the 6138 was manufactured in-house.
On those chronographs the subdials are aligned vertically, and a day-date complication is located at 3 o'clock. The diameter of those chronographs varies from 40mm 44mm and they can be up to 16mm thick. The chronographs have a flyback capability, allowing you to reset the chronograph while it still runs. They have supposedly a water resistance of 70m, but we would not advise you to put any vintage timepiece in water.
Seiko 6138-80XX Panda chronographs
Our favourite vintage-looking pieces of the 6138 series are the Seiko 6138-8020 "Panda" and 6138-8000 "Baby Panda". They can be found with black subregisters contrasting elegantly with the silver/white color of the dial which is framed by a tachymeter ring. This Seiko chronograph has a day/date complication visible at 3 o'clock.
Those watches tick a lot of boxes for vintage collectors and are the most desired. However, their price reflects their beauty, it ranges between $1000 and $2000 depending on condition. Their diameter of 40mm and their thickness of 13mm along with their black/white color scheme makes them more wearable than other 6138 references. An iconic vintage Panda chronograph for sure!
Ref: Seiko 6138-002X "Tokai Zara", 6138-003X "Kakume", 6138-300X "Jumbo"
Diameter: 43.00 mm
Thickness: 14.50 mm
Lug width: 18.00 mm
Caliber: Seiko 6138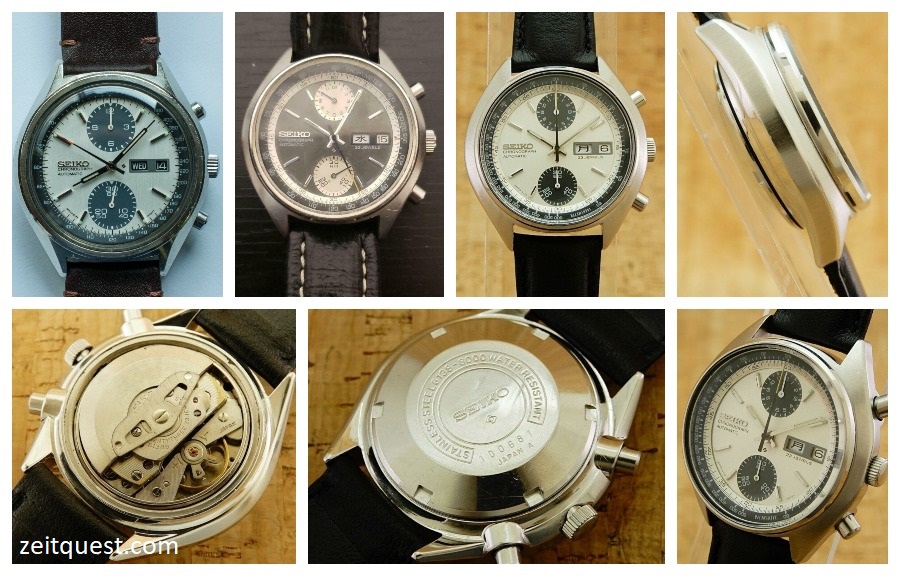 Seiko 6138-003X Kakume
"Kakume" in Japanese means "Square Eyes": as its nickname suggests, this highly collectable model in the 6138 has two square subdials. It has orange hands and is available in two colors: blue and champagne.
The blue dial is surrounded by a black chapter ring and is completed with white subregisters and day/date frame.

The champagne dial is surrounded by an orange chapter ring and is completed with black subregisters and day/date frame.

The JDM version of those models has the "Chronograph Automatic" text at 9 o'clock replaced by "5 Sports Speed-Timer". A tachymeter ring is present on the bezel of those watches which wear bigger than the pandas: 43mm diameter and 14mm thick, with a rather modest lug width of 18mm.
Ref: Seiko 6138-001X "UFO"/"Yachtsman", 6138-004X "Bullhead", 6138-700X "Calculator"
Diameter: 44.00 mm
Thickness: 15.50 mm
Lug width: 19.00 mm
Caliber: Seiko 6138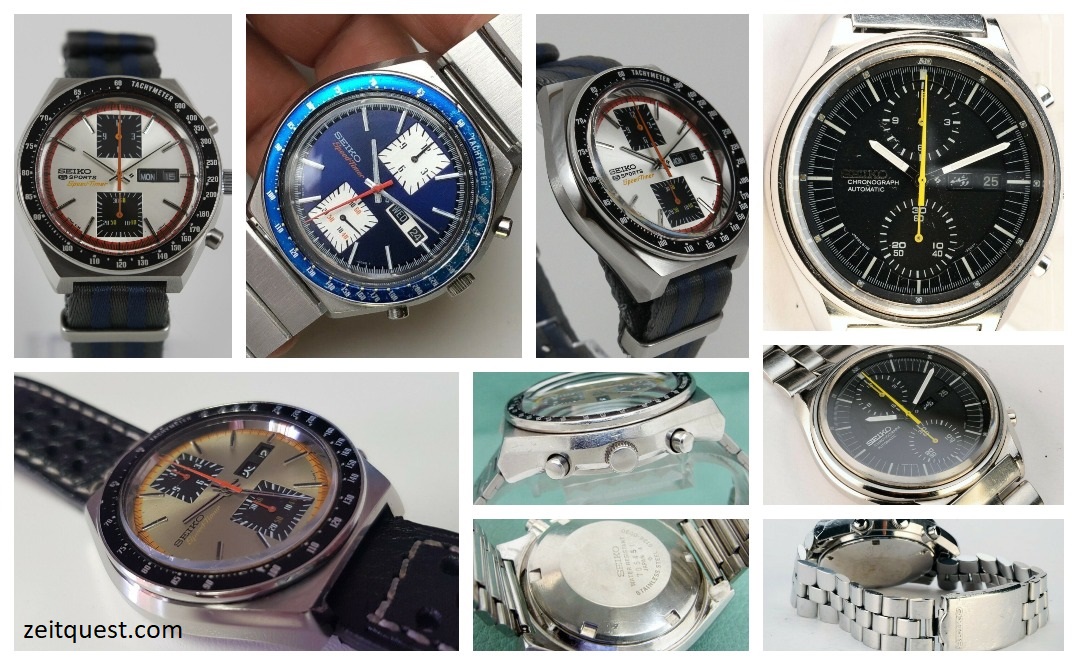 Seiko 6138-300X "Jumbo"
The reason why this watch is called "Jumbo" is that the dial spreads all the way to the extremity of the case, with a black inner chapter ring that accentuates the size of the watch face. Although it has yellow hands, this model is the least colorful of the 6138 range, and its style might remind you of some Porsche Design chronograph.
With its black dial, stepped inner chapter ring and large subregisters, this watch offers a classic yet sporty look. It has a similar design to some watches you see today. Surprisingly, the diameter of the "Jumbo" is 42mm, which is less than the following models and makes it quite wearable.
Seiko 6138-004X "Bullhead"
The term "Bullhead" is a popular nickname referring to the pushers being positioned at the top of the watch case and making them look like bull horns. This gives this model a very distinct look, which makes it highly sought after by collectors. This design trait was also present on the Citizen "Bullhead" automatic chronograph produced in 1971. The Seiko 6138 "Bullhead" can be found it two colors: in brown and in black.
The diameter of this model is 44mm and it is 16mm so it is bulky and won't easily slide under a sleeve. The "Sports-timer" version of this watch released on the JDM has a lumed dial and a different bracelet.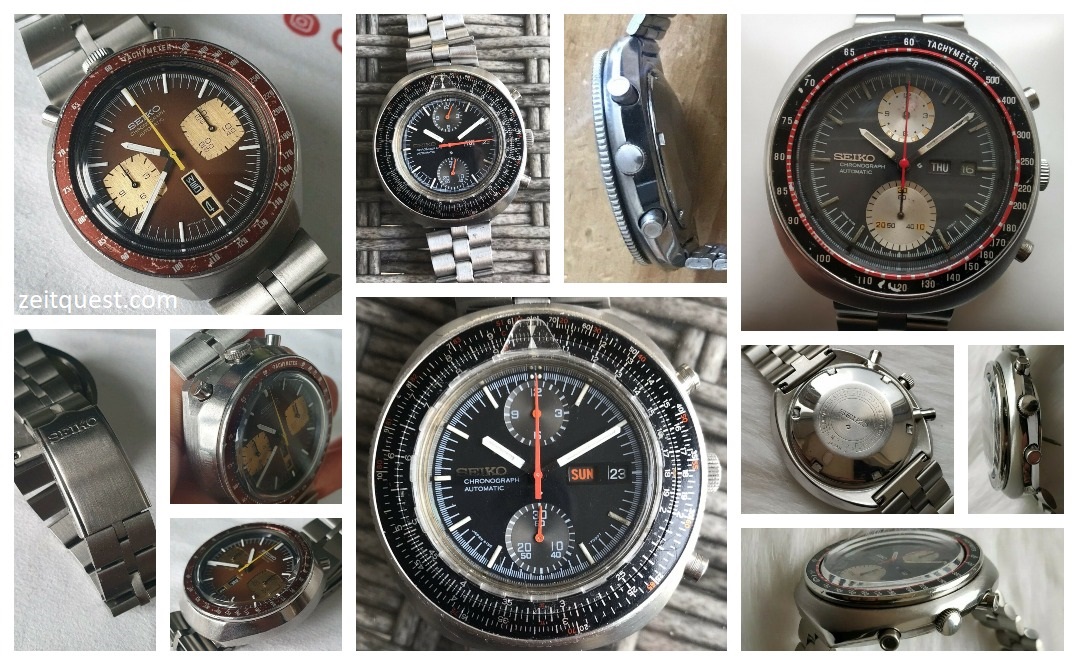 Seiko 6138-001X "UFO"
This watch has been called the "UFO" by vintage Seiko collectors because its rather alien-looking case seems to be levitating on your wrist due to the lack of protruding lugs. Seiko refers to this model as the "Yachtsman". The top subdial is smaller than the bottom one. The model you see pictured is the 6138-0011 which has a red sweep hand and lighter orange checkerboarding on the subdial. This particular model does not state its 70m water resistance. This vintage chronograph also wears big, with its 44mm diameter and 15.5mm thickness.
Seiko 6138-7000 "Calculator"
The 6138-7000 "Calculator" features a double external bezel, one rotating and one fixed, that can be used to perform a set of mathematical calculations. For those who were familiar with using a slide rule instead of a digital calculator, you will probably have some fun doing your calculations mechanically using the 6138-7000's bezel! Unlike the rest of the 6138 range which uses Hardlex crystal, Seiko's mechanical calculator has an acrylic glass.
We can see that in the 1970s Seiko was very innovative once again, this was at the dawn of the quartz crisis, and those chronographs are part of the last mechanical chronographs that were produced at such scale by the Japanese brand. If you want an affordable automatic chronograph from a reputable brand, a Seiko 6138 is certainly worth considering!
Here are 8 suggestions on eBay for the Seiko 6138 vintage chronograph:
(scroll horizontally for more )
---
Join us!
Be part of the conversation