Seiko 7A28
The Seiko 7A28 is an iconic watch because it represents the first quartz powered analog chronograph ever produced. The 7A28 was introduced in 1983 and can be found in 42 different variations of which some were produced for the army (South African Air Force and UK's MoD).
In the 1980s, the Swiss industry was suffering from the quartz crisis. On the other hand Seiko was being very successful during that period and raised the bar very high by issuing this model. The 7A28 movement is not like today's cheap modular and plastic quartz movement, it is a well-engineered, good looking 15 jewel metal caliber that was built to be serviced like a normal mechanical movement.
Ref: Seiko 7A28-7120, 7A28-7020
Diameter: 37.00 mm
Thickness: 10.20 mm
Lug width: 22.00 mm
Caliber: Quartz 7A28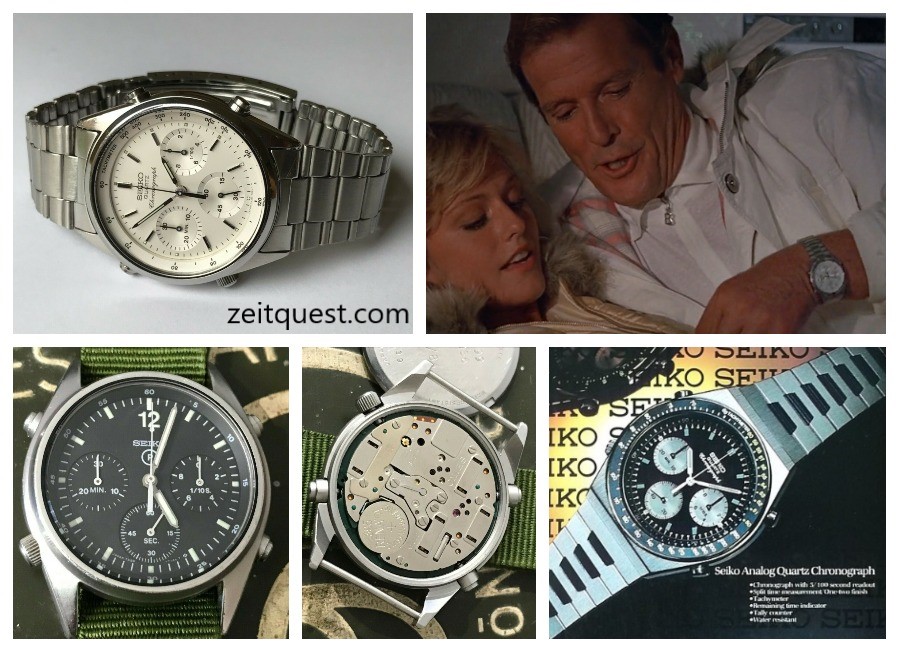 The stepper motors used for the chronograph functions of the 7A28 are carefully protected by individual metallic plates.
As mentioned earlier, the Seiko 7A28-7120 was issued to the UK's MoD in 1984 to equip their RAF/RN aircrew. The first contract saw 11,000 timepieces issued. This watch is a holy grail for watch Seiko watch collectors as it's getting quite rare, and therefore commands high prices in the $1000 range.
The 7A28 was also featured in a few movies:
In the movie Aliens (this chronograph is often called "the Ripley" because it was worn by the character Ellen Ripley, played by Sigourney Weaver).

It was worn by Roger Moore in the James Bond film "A View To A Kill" (ref 7A28-7020).
Ref: Seiko 7A28-7039 "Speedy/Synchro Timer", 7A28-6000 "Bishop", 7A28-7000 "Ripley", 7A28-7049
Diameter: 40.00 mm
Thickness: 10.00 mm
Lug width: 22.00 mm
Caliber: Quartz 7A28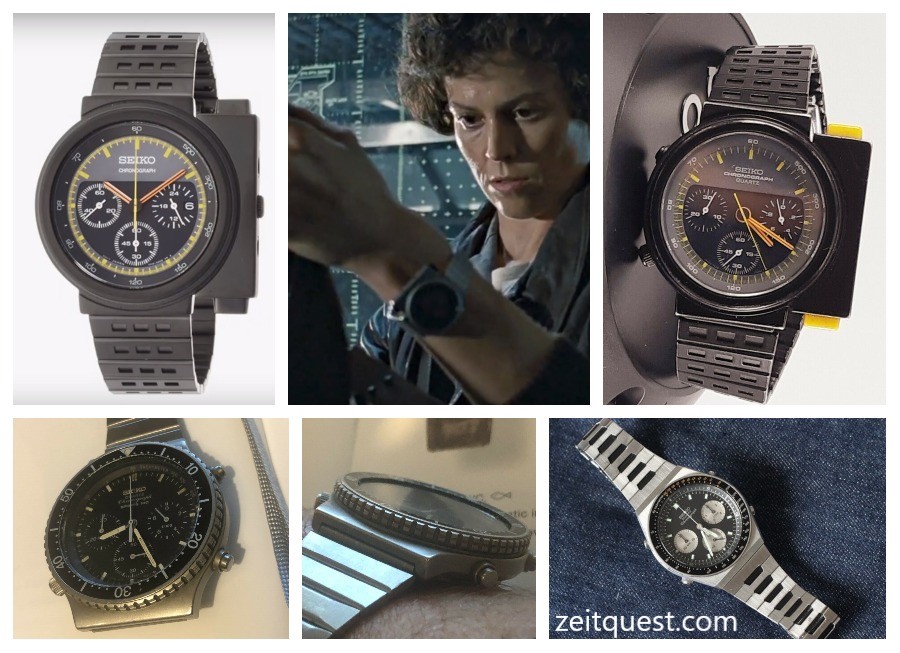 The chronograph starts when pressing the 2 o'clock button. The center seconds hand has a one-second tick, whereas the dial at 3 o'clock displays the 1/20ths of a second. The elapsed minutes are indicated at 9 o'clock and a running second can be observed at 6 o'clock. If you press the pusher at 10 o'clock after having started the chrono, the hands will stop moving, but the chronograph will keep running, which is a nice split timing feature! You can reset the chrono by holding the 4 o'clock button.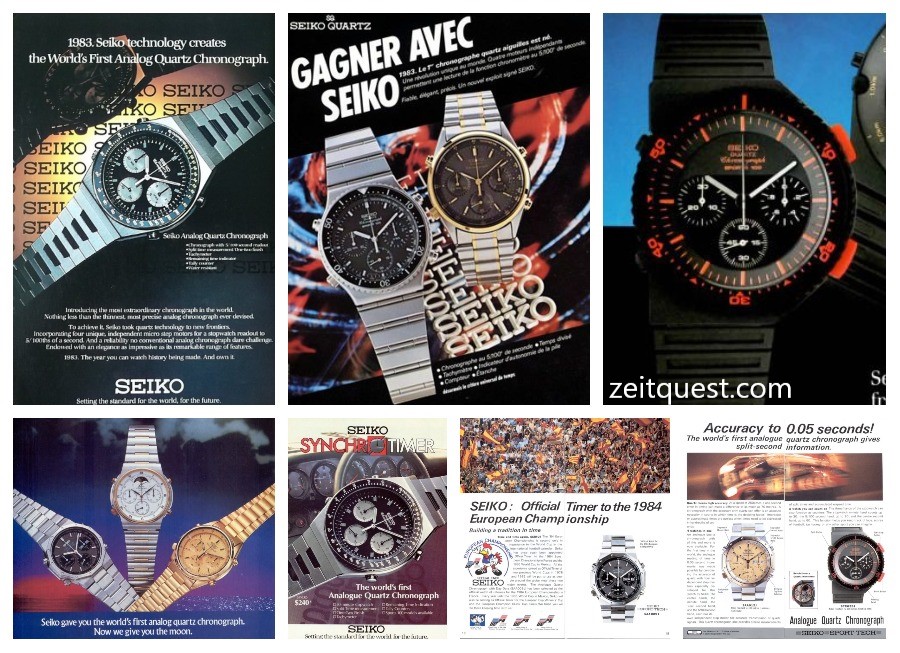 It is also worth noting that the 7A28-6000 "Bishop" and 7A28-7000 "Ripley" were designed by Giorgetto Giugiaro, a famous car designer. He also worked with Seiko on the models 7A28-5000, 7A28-500A, 7A28-7A00 and 7A28-7001.
To some, the Seiko 7A28 can be seen as a modern and affordable alternative to the Omega Speedmaster, the 7A28-7039 "Speedy/Synchro Timer" is a great candidate for this. Although it has not been to the moon, the 7A28 is an undeniable icon in watch history!
Here are 8 suggestions on eBay for the Seiko 7A28:
(scroll horizontally for more )
---
Join us!
Be part of the conversation