Squale Atmos 20
Squale is a family business based in Milano (Italy) since 1946. This company was providing cases and parts to a lot of other brands such as Tag Heuer or Blancpain.
Priced at $570 USD, this watch is about 2-3 times more expensive than a mid-range Orient or SKX divers watch. Looking at it from the other end of the price curve, it is less than half the cost of the Oris Divers Sixty five.
The Squale Atmos 20 provides, however, a lot of value and quality for its price. With a diameter of 40mm, 12.1m in thickness, 20mm of lug width, AR-coated sapphire glass, an ETA 2824-2 caliber, and 200m resistance... one must admit that it is a serious alternative!
The bezel is made of Ceramic, it looks shiny and gives the watch a premium feel. The dial is a glossy black with printed silver branding that looks nice and sharp. The polished indices contribute greatly to the premium look.
This watch also has a "maxi" version, which has a matte dial and printed indices. This latter has also a Ceramic dial, which we feel does not look as good as with the glossy dial and applied indices of the standard version.
The handset is nicely polished and appropriately sized. The inner chapter ring is brushed and simple, it seems rather plain compared to the Submariner's one that has "ROLEX ROLEX ROLEX" engraved all around.
Ref: Squale Atmos 20 1545
Diameter: 40.00 mm
Thickness: 12.10 mm
Lug width: 20.00 mm
Caliber: ETA 2824-2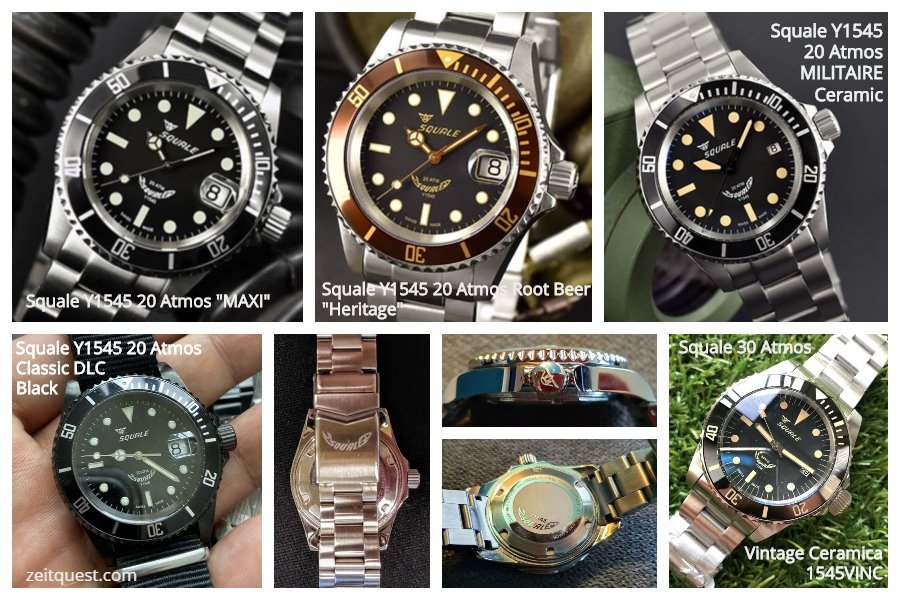 The flat sapphire crystal is stepped and protrudes at 0.5mm above the bezel, giving an extra bit of sparkle. It works well with the other polished elements such as the bezel and bezel ring.
Unlike cheaper Rolex Submariner alternatives that usually have a "cyclops" magnifying glass with 1.5x magnification, the Squale's cyclops has 2.5x magnification. We can see that Squale really wanted to provide great features for the price.
The case of the Squale Atmos 20 is very well executed, with very sharp lines. The lugs are slightly thicker than the Rolex Submariner but it feels very solid. It is also no too thick: at 12.1mm it can fit under a sleeve.
The bezel looks very classy: the numbers are not too thick and the bezel looks narrower than on some other Rolex Submariner homages; such as Davosa models.
The crown is long, easy to operate and feels solid, with no play. The teeth provide an easy grip and do not harm your fingers when you use it.
The bracelet features a fine brushing, looking sharper than on other Rolex Submariner homages. It uses screws to hold the links together. The end links make the watch hug your wrist comfortably, in particular for smaller wrist sizes.
The deployment clasp has nothing special and is probably where some of you might be disappointed. It does the job, it's solid, that's all there is to say.
It is a watch that could take a little abuse at the pool and beach but still work for dinners at fine restaurants. For its price, the Squale Atmos 20 is, therefore, a well built Italian made homage to the Rolex Submariner.
Here are 8 suggestions on eBay for the Squale Atmos 20:
(scroll horizontally for more )
---
Join us!
Be part of the conversation