Fortis Cosmonauts Chronograph
Fortis has been involved with developing timepieces for space travel for over forty years. As early as 1962, the Fortis Spacematic was selected for use by several of the original Mercury astronauts. As the space race continued, Fortis developed new ties with the Russian space program and created a timepiece specifically for use on manned space missions. The Fortis Official Cosmonauts Chronograph is often seen as a great alternative to the Omega Speedmaster Professional.
Our favorite is the model 630.22.141 with the tachymeter bezel, which was worn by the cinema actor Harrison Ford playing Colonel Gaff in the movie "Ender's Game". This timepiece has a diameter of 38mm and is 14mm thick. The Fortis Cosmonauts Chronograph is powered by a reliable Valjoux 7750 Swiss automatic movement which provides a plethora of features such as chronograph, hour, minute, permanent small second, 12-hour and 30-minute counter, day/date indication.
The proportions of this watch are ideal for most wrists, making it very comfortable to wear. The lug width is 18mm and it comes with a stainless steel oyster style bracelet.
Ref: Fortis Cosmonauts Chronograph 630.22.141
Diameter: 38.00 mm
Thickness: 14.00 mm
Lug width: 18.00 mm
Caliber: Valjoux 7750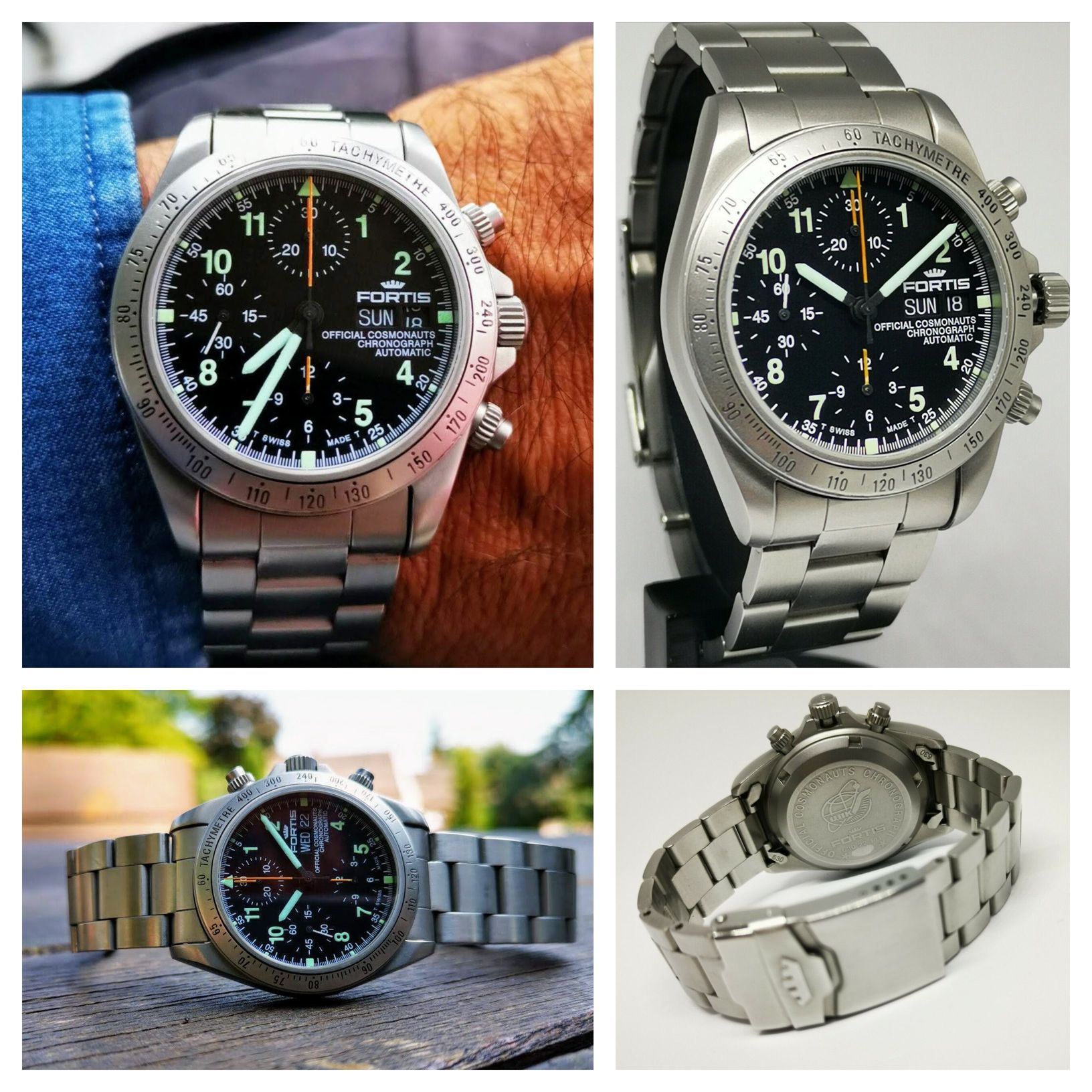 In 1994, the Fortis Official Cosmonauts Chronograph Automatic became part of the regulation equipment handed over to cosmonauts before each launch.
To this day, every cosmonaut and astronaut who goes through the training program at the Yuri Gagarin Cosmonaut Training Center in Russia receive a Fortis watch as part of their official space equipment. For many years, astronauts thought that a hand-wound watch was necessary on space missions to ensure reliability.
Fortis proved that an automatic timepiece could be just as reliable by putting the Official Cosmonauts Chronograph Automatic through some of the most rigorous endurance tests ever conducted. To simulate conditions encountered in low earth orbit, the watch was subjected to extreme negative pressure in a test chamber. In less than 160 seconds the normal air pressure of 760 Torr was lowered to near-vacuum conditions of only 40 Torr and kept at this pressure for a full ten minutes before being returned to normal. The watch suffered no adverse effects and continued to perform normally.
Even when the Official Cosmonauts Chronograph Automatic was subjected to an acceleration force of 12 times the force of gravity under near-vacuum conditions, the watch continued to operate normally and suffered no damage.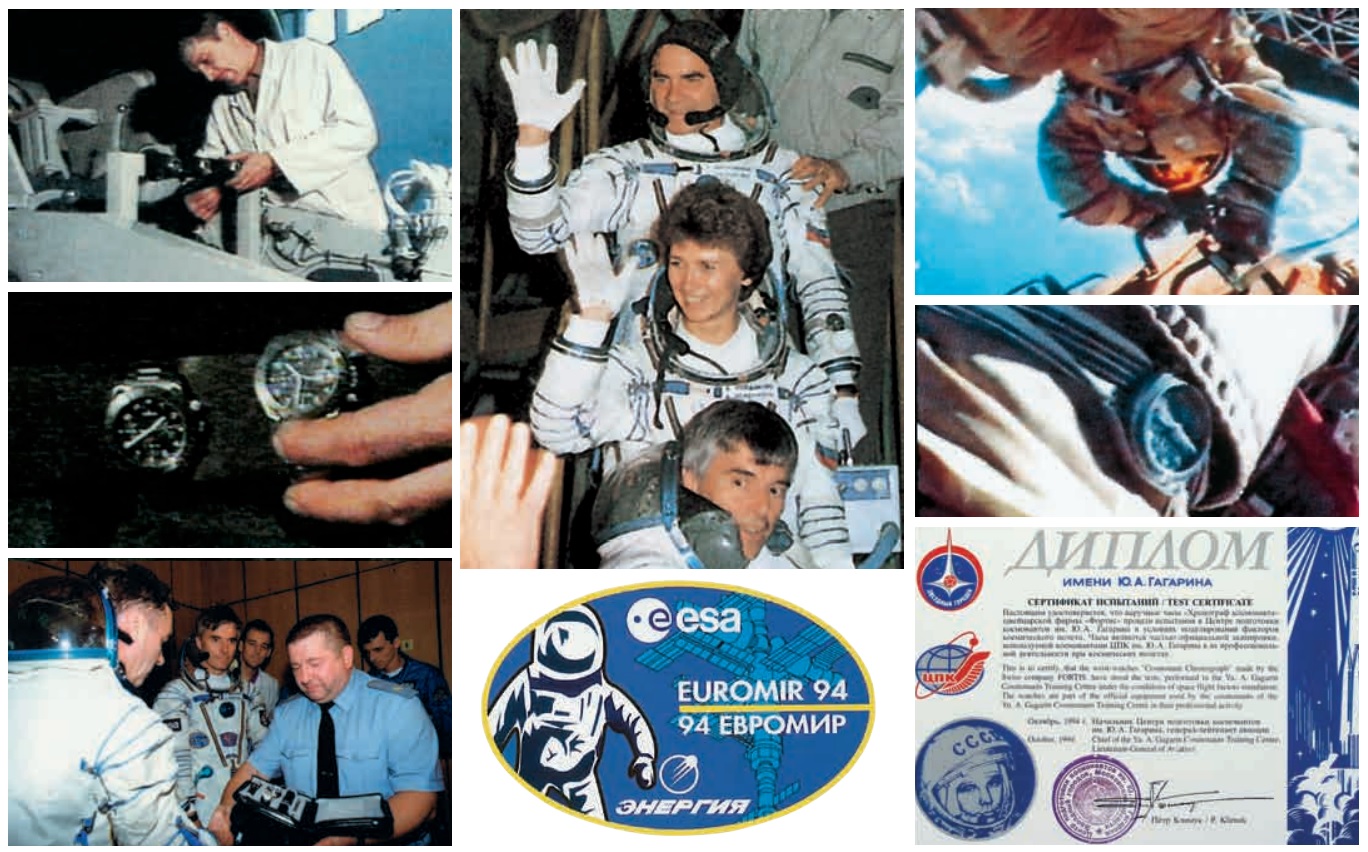 Dr. Ulf Merbold, a German physicist and astronaut, first wore the Official Cosmonauts Chronograph in deep space during the joint German/Russian Euromir space mission. Dr. Merbold used the chronograph in daily fitness training and other medical experiments during the 30-day mission.
From the launch in Baikonur, Russia to the landing in the Kazakh steppe, the Official Cosmonauts Chronograph Automatic performed perfectly and proved once and for all that a manual winding watch was unnecessary for space travel. While in orbit, astronauts experience up to 16 sunrises and sunsets during 24 hours. Under these disorienting conditions, an accurate wristwatch can help astronauts maintain their orientation to "earth time".
During his mission, Dr. Merbold was impressed with how the neon orange chronograph hands and strong luminosity of the tritium-enhanced hands and numerals on the Official Cosmonauts Chronograph made visibility easy under the adverse lighting conditions found on the space station.
To this day, the Fortis Official Cosmonauts Chronograph with Valjoux Swiss Automatic Movement is still the only official timepiece of the Russian Space Program. This makes the Fortis Official Cosmonauts Chronograph an amazing Omega Speedmaster alternative.
Here are 8 suggestions on eBay for the Fortis Cosmonauts Chronograph:
(scroll horizontally for more )
---
Join us!
Be part of the conversation